HouseCat Links

Check out our handmade kitty products!
What kind of cat do you have?
This has a wide variety of information available!
An informative white paper on
the domestication of cats (and more).
Book, books, and more books!
A list of links and pics just for cats (of all sizes)!
You won't believe how many cats have their OWN homepages!
Quite interesting information on this page and lots of links!
- wild to mild!

Nutrition and Remedies From PetQuarters

Wide variety

More!


Look at this!!

paws have padded here!

MEMBER
of the POD
Everything for the Discerning Cat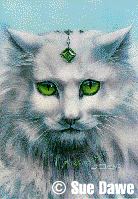 Cats love their private places.
We have special handmade products and some awesome cat links on the left.
We look forward to hearing from you - all suggestions are welcome!

Write to us!

HouseCat Homes
Contact us now!

PO Box 201
Savoy IL 61874
United States
This website designed and maintained by Spycè ©1999



Put a lil Spycè in your life today!